BOAT
In the fast-paced life of modern cities in China, busy working people need a more effective way to care for and support their elderly parents, because they are extremely busy with their work, which makes them have little time to take care of and accompany the "empty nest" parents who need to be taken care of physically and mentally.
An IOS app enhances the connection between empty nest elders & their busy working children.
User Research
Prototyping
Usability Testing
Interface Design
Mobile Design
Caregiving
Elders
I believe that by creating this app that helps children to better provide attention to their elderly parents' daily life,
I will help reduce the loneliness of empty nesters and give these busy Chinese children a platform to effectively take care and show filial piety to their parents.
On-Boarding & Messenger
The onboarding pages tell people about the important features of this app. Through the messenger pages, people can check their parents' health, weather & location, as well as view and set reminders.
Physical & Emotional Wellbeing
The smartwatch monitors parents' physical wellbeing indexes such as heart rate, sleep index, and exercise information. The emotional wellbeing index generated based on the physical index and the facial scan results.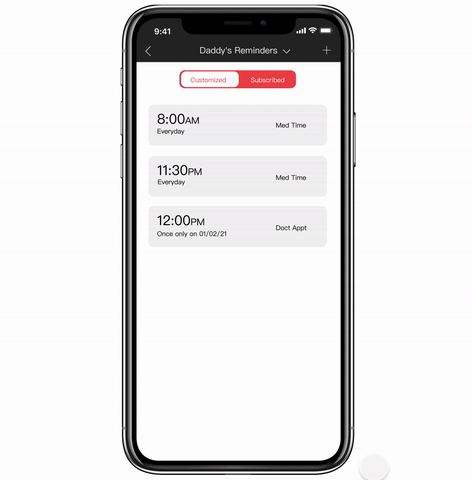 Customized & Subscribed Reminders
In the customized reminders, people can add parents' important daily tasks or events (e.g. medication time, doctor appointment). The subscribed reminders will give children and parents something to talk about (e.g. health news, elder news).
Weather & Location
The app monitors parents' location when parents go out, meanwhile, people can view the weather in parents' city to help parents for a safe trip.
RESEARCH
FINDINGS
​Findings from busy working young people (children):
Children feel like their parents are not telling the true life of them when they call

Children think parents have generation gaps & have few common topics with them

Children have very busy lives and they cannot often visit parents
​
Findings from nest elders (parents):
Parents only see their children once in a while for a few days, such as during holidays

Parents do not want to bring pressure or disrupt their children's lives

Parents feel lonely staying home alone
"Due to the lack of communication, I feel that young people like me and their elderly parents do not know each other's current life very well. But I really want to know about my parents' life."
I interviewed three busy working children and three empty nest elders, and I got some very interesting insights and high-level findings.
PERSONAS
After organizing my findings, I created two personas - busy working children and an elderly mom living alone.
​
The main frustrations came from my high-level findings -
c

hildren believe their parents are

not telling their true life

when they call, and parents do not want to bring pressure or disrupt their children's lives so they

hide some negative truth

.
COMPETITIVE
ANALYSIS
I choose six potential competitors and eight key features and conducted a competitive analysis. What I found from the competitive analysis is, the "CareZone" have very comprehensive features, and the "Ecare21" has the monitoring through smart device feature.
I was hoping to combine the two apps together for a more simple and intuitive app, to pair up with the smartwatch health tracking, and to add more features for emotional management.
Some other key insights are:
Emotional tracking is essential since is not only a task management app

The customized reminder function will help children to pay better attention to parents

The subscribed reminder will actually give them some topics to talk about
A communicative caregiving app must have a messager feature, and having a health information tracking feature will help children to understand parents' true condition.
Some first screens I generated are messengers, reminders, location, and health pages.
​
I separated out the physical and emotional index by creating the bottom nav, however, I found this has made my app complex and had to completely change them after usability tests.
Most people believe what I did well was the detailed health page and having all my features' entry in the messenger. However, some takeaways for things I didn't do well were:
​
The number on the voice chat message indicates seconds (e.g. 41'') are hard to understand.

Plan: changing 'seconds' to a formal format (e.g. 0: 41)
​
Some people do not know the health indicator for normal people (such as a normal blood pressure) in order to detect if the cared person is healthy or not

Plan: add an overall health score and add a 'tips' section explaining the indicators
The map is too small on the location page.

Plan: add a separate page for an enlarged map and location info
The weather info and "bad weather reminder" are under the page called "location" and it was confusing for people because they often interpret as the reminder button correlated to the location.

Plan: changing the page title to it to "Loc and Weather" and add separators for them
Cleaner format & wayfinding
In the messenger page, I changed the seconds to a more formal format, and I moved the reminders to the top right, separated the wellbeing and location, and put them to the bottom left and right.
Easier-to-understand information
I removed the bottom navigation due to I have put them into body info (or removed it to another section). I added some healthy tips, added the overall healthy score, and removed unnecessary graphics that do not match the theme.
Better Data Visualization
I convey the "today's indicator" from a confusing chart to percentages for a cleaner presentation of information. Besides, I have removed the weekly mood board from the main page to match the overall updated format.
The "BOAT"
I named this app 'BOAT' because in Chinese, the pronunciation of 'boat' sounds the same as "Passing On". I would like to make this app a place for children to pass on their deepest love to their dearest parents.
Everyone deserved to be loved. I have always wondered if I can create a platform for busy young people to pass on our love to our parents, so I came up with the idea - BOAT.
In the past few months, I investigated the general lifestyle of the 'empty nest' elderly in China to learn more about the needs of empty nesters from all aspects including the physical, phycological wellbeing, and community support, I spend time doing user research, crafting ideas, and usability testing, and finally, I designed this IOS app called BOAT that could pair up with iWatch dedicated to caring for empty nesters. My next step would be doing my second round usability testing, and creating the watch interface if I have time.
I enjoyed working on this project for my part-time UXD class at General Assembly. Special thanks to Samia Ahmed - my instructor at GA, and all my classmates from the UXD class. ❤
​